Custom, quality texture packs add whole new dimensions to your gameplay. Installing them can however be somewhat difficult and confusing to the average minecrafter. Therefore I would like to present to you this handy guide which will instruct you step by step how to install a custom texture pack.
The original guide can be found
here
.
Open your
START
menu in Windows and click "
Run...
". -
For XP
Open your
START
menu ->
All Programs
->
Accessories
->
Run
-
For Vista
Enter
"%appdata%/.minecraft/bin
" and press
OK
.
Step 2
In here you will find a file called
minecraft.jar
, it will most likely carry the "Java"-symbol and be an Executable Jar File.
Step 3
Now for the magic. If you installed
WinRAR
or
7Zip
you should be able to right-click the file and get an option to open with either
WinRAR
or
7Zip
as you can see in the picture below. I'm hovering the option to open it with
WinRAR
, but you can also see the
7Zip
option in there.
This is where you swap the images. To do this, simply drag the textures from the folder where you extracted them to or directly from the
WinRAR
folder they're in, into the
minecraft.jar
file.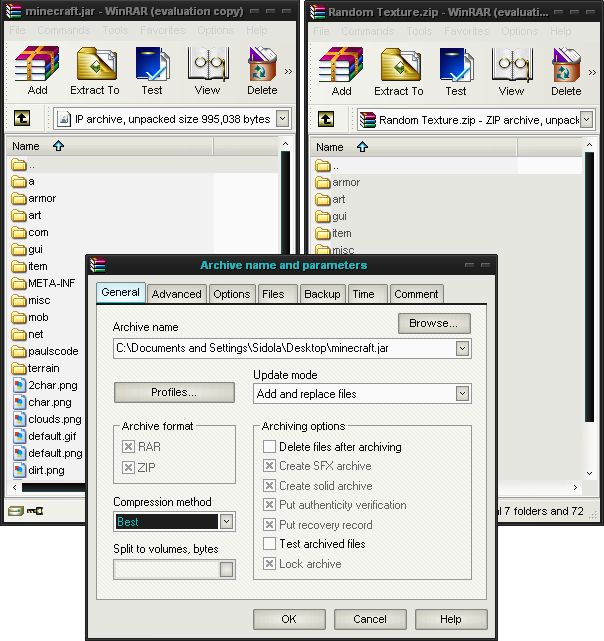 An example from
WinRAR
. On the left you can see the open
minecraft.jar
, and on the right the open
texture pack
. Once you drag the files from the texture pack to the .jar file WinRAR and 7Zip will ask if you want to
Add and replace files
/
Copy files to archive
, just press
OK
/
Yes
and you'll be done.